Delivery Apps Post-COVID
Delivery apps will account for 10% of US eCommerce sales by the end of 2022.
Within the past month, the CEOs of two leading delivery apps (Tony Xu of DoorDash and Fidji Simo of Instacart) joined the respective board of directors at Meta and Shopify. Now, people are appointed to boards for all sorts of reasons, but usually it's to "help a corporation set broad goals." Through that lens, shareholders of Meta and Shopify believe that Xu and Simo can provide valuable advice to their companies. It also signals that "Big Tech" thinks delivery apps and services will play an important role in the future of the digital economy.
Social distancing throughout the COVID-19 pandemic created a springboard that launched delivery apps from being a convenience to a necessity for many consumers – conditioning shoppers' behavior that will likely persist post-pandemic. In fact, 42% of Americans say they expect their pandemic-shopping behavior to continue post-pandemic. Time will tell.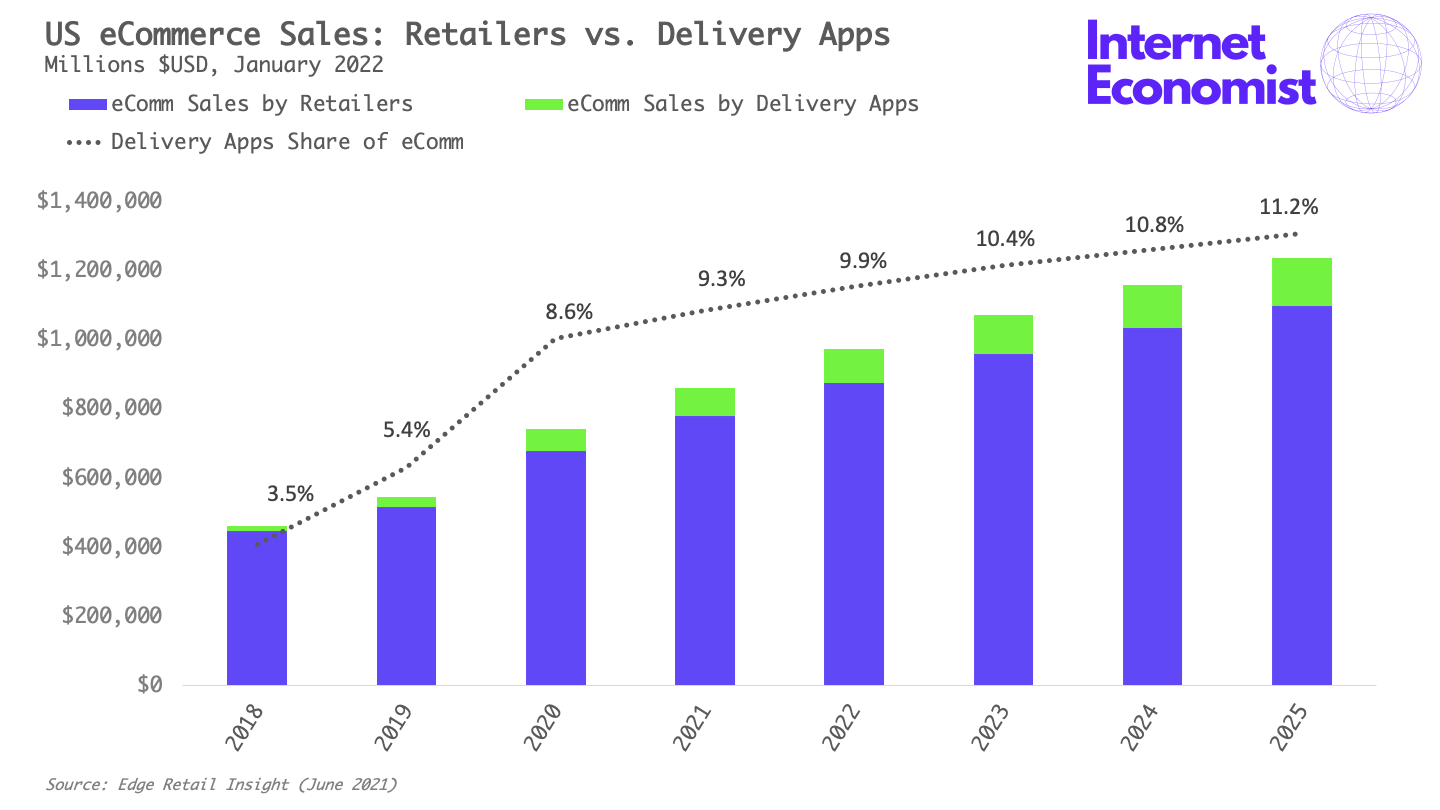 The original go-to-market strategy for most delivery apps between 2010-2015 was in restaurants but it turns out that was a "crummy business." Since then, delivery apps like DoorDash and Postmates have expanded into other categories partnering with big box retailers like Walmart, Target, and Dick's Sporting Goods putting them in closer competition with Amazon. It turns out, that's a "good business," because lots of people don't like Amazon.
So how will delivery apps capitalize on their newfound relevance? Keep an eye on four major areas over the next three years:
Advertising: Delivery apps are the new "digital shelf" and brands (especially in CPG) will spend billions of dollars merchandising their products in the apps.
Shopper Data: In partnering with dozens of retailers, delivery apps have built enormous product information databases that allow them to track shopper behavior at scale.
Distribution Centers: Delivery apps could list "ghost SKUs" in their apps that retailers don't actually carry in stores but that they could fulfill using local distribution centers.
Delivery: Delivery apps will continue using a combination of peer-to-peer courier networks and full-time delivery drivers to fulfill orders in two hours or less.
One way to think about delivery apps is that they are becoming "eCommerce as a service" platforms. Their core product is a mobile commerce marketplace, but brands and retailers will have the option to do in-app merchandising, mobile ordering, shopper intelligence, local warehousing, and two-hour delivery. Sure, some brands and retailers may want to do these things themselves but it's very expensive and few do it well, which is why so many major brands and retailers are partnering with delivery apps. Besides, when you're dealing with marketplaces and logistics it's difficult for individual brands and retailers to reach the economies of scale that a platform company like DoorDash could reach.
Delivery apps are poised to build on their momentum coming out of the pandemic to be more relevant than ever before.