Big Tech and Advertising
Big Tech has surpassed 50% share of global ad revenue.
Tech companies have started reporting earnings for Q4/FY2021 and business has been good – especially the digital advertising business.
Alphabet reported $209 billion in 2021 digital ad revenue, up 42% YoY. Microsoft reported $10 billion in digital ad revenue, up 32% YoY. Meta will report earnings later today, with ad revenue expected to be around $115 billion, and Amazon will report earnings tomorrow with ad revenue closer to $26 billion. If estimates hold up, the four companies will report a combined $360 billion in ad revenue for FY2021.
Industry estimates for total ad spending in 2021 are around $710 billion and $442 billion for digital ad spending, meaning Alphabet, Meta, Amazon, and Microsoft have together surpassed – or will very soon – 50% share of total global ad revenue and 81% share of global digital ad revenue. When factoring in other "Big Tech" companies like Apple, Spotify, and Twitter, it would be safe to say that tech companies are already capturing more than 50% of global ad revenue.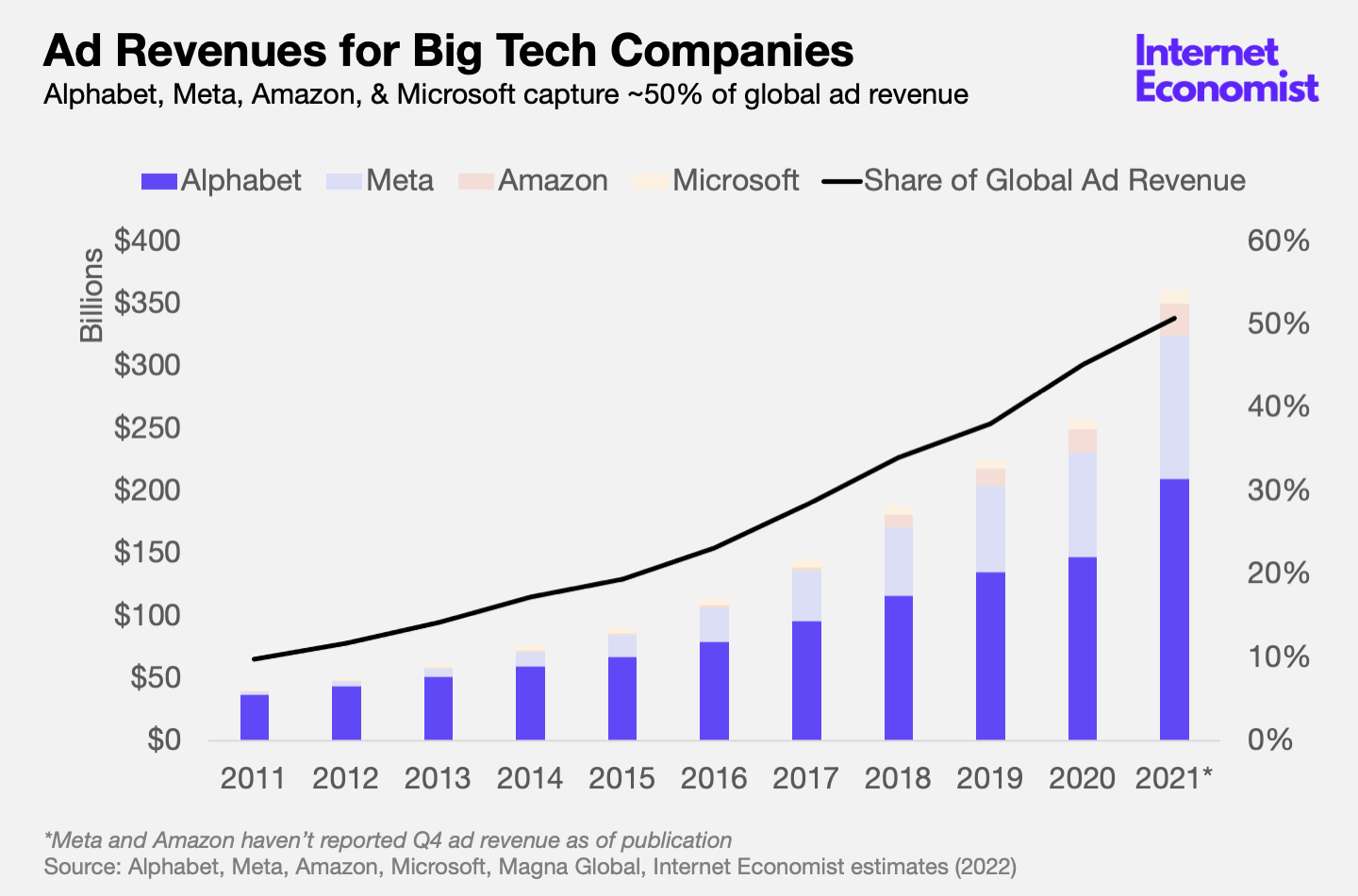 Tech's rise in the advertising market is the result of a fast-moving shift from traditional media to digital – a shift that has largely played out the past several years. Nearly two-thirds of US advertising is now digital (led by search advertising), 25% is television, and less than 10% is all other types of advertising – print, radio, out-of-home, video games, music streaming, etc.
Future ad platform shifts will likely come from within digital – for example, a shift from social to virtual reality or mobile to autotainment. Staying ahead of these future platform shifts will be critical for Big Tech, especially Alphabet and Meta, not only to sustain current revenue growth, but to protect the businesses they've already built.