Airbnb Bookings and Prices Climb
Airbnb bookings near pre-pandemic highs while prices climb.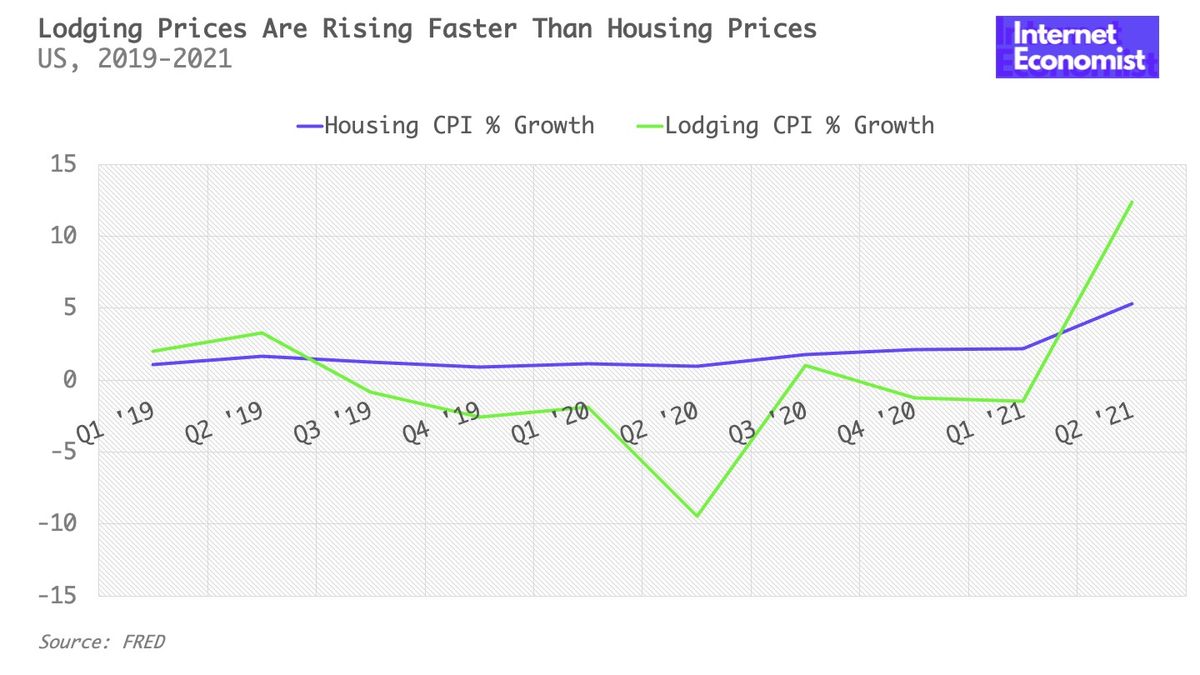 Over the long-run, housing prices and lodging prices generally move together. However, in Q2 2021 lodging prices increased 2.3 times faster than housing prices. This has benefitted hotels, casinos, resorts, and online booking marketplaces such as Airbnb.
Between April-June of this year, the average daily rate for an Airbnb booking was $161, +41% higher than one year ago. This trend aligns with the overall increase in lodging prices we're seeing in cities nationwide which are now at all-time highs in the US.
Increased demand has supported this price movement, but more recent economic data suggests the market will cool-off in Q4 and going into 2022.
For example, rental occupancies are back to pre-pandemic levels. This suggests that bookings — especially long-term bookings — will begin to subside as tenants return to more permanent housing. Long-term bookings was a major growth driver for Airbnb during the pandemic as stays of >28 nights accounted for 24% of its total bookings in Q1 2021, up from 14% in Q4 2019.
Some may be thinking that the ending of the eviction moratorium could drive rental occupancies back down, but these occupants — who by definition are unable to pay rent — are not likely to convert to Airbnb customers at this moment in time. Lastly, there's another major wave of employers who are bringing employees back to offices in Q3 which will also deter long-term travel plans.
Airbnb is still in the midst of a whipsaw recovery coming out of the travel shutdown in 2020, but there will likely be a drawback in demand going into Q4 and into 2022 as a result of elevated prices and people returning to permanent residences, resulting in excess supply in its marketplace. Over the long-run expect Airbnb to benefit from the gradual secular shift to remote/flexible work that is expected to continue over the next decade but there will be some volatility along the way.